IGNOU: A Brief Profile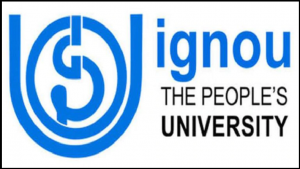 RECOGNITION
IGNOU is a NATIONAL OPEN UNIVERSITY established by an Act of Parliament in 1985 (Act No. 50 of 1985). IGNOU Degrees/Diplomas/Certificates are recognised by all the member institutions of the Association of Indian Universities (AIU) and are at par with Degrees/Diplomas/Certificates of all Indian Universities/Deemed Universities/Institutions.
Introduction
The Indira Gandhi National Open University was established by an Act of Parliament in 1985 to achieve the following objectives:
democratising higher education by taking it to the doorsteps of the learners,
providing access to high quality education to all those who seek it irrespective of age, region, religion and gender,
offering need-based academic programmes by giving professional and vocational orientation to the courses, and
promoting and developing distance education in India.
Prominent Features
IGNOU has certain unique features such as:
national jurisdiction with international presence
flexible admission rules
individualised study: flexibility in terms of place, pace and duration of study
use of latest information and communication technologies
nationwide student support services network
cost-effective programmes
modular approach to programmes
resource sharing, collaboration and networking with conventional universities, open universities and other institutions/organisations
socially and academically relevant programmes based on students' need analysis, and
convergence of open and conventional education systems
 Important Achievements
Emergence of IGNOU as the largest Open University in the world.
Recognition as Centre of Excellence in Distance Education by the Commonwealth of Learning (1993).
Award of Excellence for Distance Education Material by Commonwealth of Learning (1999).
Launch of a series of 24 hour Educational Channels 'Gyan Darshan'.
IGNOU is the nodal agency for these channels and regular transmissions are done from the studios at Electronic Media Production Centre (EMPC), IGNOU.
Regular educational broadcast with facility for live interaction
Student enrolment has reached 3 million.
UNESCO has declared IGNOU as the largest institution of higher learning in the world in 2010.
Largest network of learning support system.
Declaration of Term-end result within 45 days.
Online Admission System
The Admission Forms can be submitted online (except for International Students) through Online Admission System at http://onlineadmission.ignou.ac.in. Currently, the facility is available for the programmes offered through Common Prospectus except merit-based and entrance test based programmes. The prospective learners are required to create their user ID and password for logging in the system and upload the required documents along with the submission of the Admission Form. There is no need to send the printed copy of the Admission Form to the Regional Centre. The programme fee can be paid online using payment Gateway through net banking, debit card and credit card. Once the admission form is submitted online, the students can track the progress of their admission. A message is sent on the mobile number and email ID registered with the System once admission is confirmed. In case of any discrepancy in the Admission Form, the prospective students are advised to remove the discrepancy within a stipulated time. Failing to do so will lead to rejection of admission form. The prospective learners submitting the Admission Form through this System can download the Prospectus free from IGNOU website http://www.ignou.ac.in. However, an amount of Rs.200/- is charged as registration fee along with the programme fee.
Course Preparation
Learning material is specially prepared by teams of experts drawn from different universities and specialized institutions in the area spread throughout the country as well as in-house faculty. The material is scrutinized by the content experts, in -house faculty and edited by the language experts at IGNOU before these are finally sent for printing. Similarly, audio and video materials are produced in consultation with the course writers, in house faculty and producers. The material is previewed and reviewed by the faculty as well as outside experts and edited/modified, wherever necessary, before they are finally dispatched to the students, Study Centres and Telecast through Gyan Darshan.
Credit System
Defining Credit in ODL
The University follows the 'Credit System' for most of its programmes. Each credit in our system is equivalent to 30 hours of learner study comprising all learning activities (i.e. reading and comprehending the print material, listening to audio, watching video, attending counselling sessions, teleconference and writing assignment responses). Thus, a 4-credit course involves 120 hours of study and a 6-credit course involves 180 hours of study. This helps the learner to know the academic effort he/she has to put in, to successfully complete a course. Completion of an academic programme (Degree or Diploma) requires successful completion of the assignments, practical, projects and the Term-End Examination as per requirement of each course in a programme. 
 For more details contact us: 94 96 544 599, 94 96 54 44 66, 0481 2564899, 2302499